Every Sunday, 9:00 AM - 10:15 AM
Current/upcoming classes:

What is a "good church"?
Starting November 5 / 9 AM / Room 810
What should you be looking for in choosing a church? What are the marks of a "good" church? In this class, we will explore the different aspects of what should be part of a good church: prayer, missions, worship, preaching, discipline, leadership, and fellowship. We will focus on how to do these things both individually and corporately.


| | | | |
| --- | --- | --- | --- |
| November 5 | Worship & *Preaching / Nurture Christlikeness | Handout | Podcast Audio |
| November 12 | Mission [special guests: "Wrap-Around Ministry"] / Nurture Service | Handout | Podcast Audio |
| November 19 | *Sacraments / Nurture Grace | Handout | Podcast Audio |
| November 26 | Community & Fellowship / Nurture Empathy | Handout | |
| December 3 | *Discipline / Nurture Truth | Handout | Podcast Audio |
| December 10 | Government & Leadership / Nurture People | Handout | Podcast Audio |
| December 17 | Prayer & Repentance / Nurture Justice | Handout | Podcast Audio |
As part of this "Good Church" Series, we will be hearing from some of WEPC's ministries and mission partners:
Wrap Around Ministry: Responding in Love
Nov 12
Throughout scripture we see a merciful and compassionate God caring for the vulnerable, "Father of the fatherless and protector of widows" (Ps 68:5). Not only does God care for them he also calls us to exemplify these attributes. "Defend the weak and the fatherless; uphold the cause of the poor and the oppressed" (Psalm 82:3). Join us on Orphan Sunday as members of the Wrap Around Ministry share what God is doing through our church and offer practical ways to love the vulnerable in our community.
Past Classes: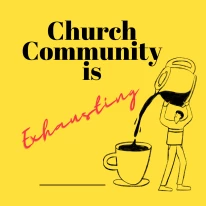 Church Community is Exhausting
Weekly September 10 through October 8
9 AM / Room 810
Join us for a four-week study on the blessings and struggles of being part of a church community. Have you wished you had more friends at church? Do you desire to grow in your faith? And at the same time, are you exhausted at the thought of adding another thing to your plate? Do you not know where to even begin? Join Joe Brown for a study of issues that Christians face when it comes to finding community: both ancient and modern. The main texts will be Dietrich Bonhoffer's 1939 book Life Together, Jack Miller's 1986 book Outgrowing the Ingrown Church , and Jim Davis and Michael's Graham's recently published book The Great Dechurching. Contact Joe Brown for more information.

What do Muslims believe and how can we speak to them with love and respect? Many Christians have an uninformed opinion about Islam. We studied and discussed the tenets, history, and practices of Islam through a video teaching series by Dr. James Anderson. This class was facilitated by individuals that are currently involved in outreach to the Muslim community.
Book of Revelation: Have you ever been confused about Revelation? Do you wonder whether this book of the Bible is relatable to your life? Revelation 17:14: "They will make war on the Lamb, and the Lamb will conquer them, for he is Lord of lords and King of kings, and those with him are called and chosen and faithful."
| | | | |
| --- | --- | --- | --- |
| February 12, 2023 | Revelation 1:1-8 | Handout 1, Slides | Podcast Audio |
| February 19, 2023 | Revelation 1:9-20 | Handout 2 | Podcast Audio |
| March 5, 2023 | Revelation 2-3 | Handout 3 | Podcast Audio |
| March 12, 2023 | Revelation 4-5 | Handout 4 | Podcast Audio |
| March 19, 2023 | Revelation 6-7 | Handout 5 | Podcast Audio |
| March 26, 2023 | Revelation 8-11 | Handout 6 | Podcast Audio |
| April 9, 2023 (Easter) | Revelation 12-14 | Handout 7 | Podcast Audio |
| April 16, 2023 | Revelation 15-16 | Handout 8 | Podcast Audio |
| April 23, 2023 | Revelation 17:1-19:10 | Handout 9 | Podcast Audio |
| April 30, 2023 | Revelation 19:11-20:15 | Handout 10 | Podcast Audio |
| May 14, 2023 | Revelation 21:1-22:5 | Handout 11 | Podcast Audio |
| May 21, 2023 | Revelation 22:6-21 | -- | Podcast Audio |
Deconstruction

When churches fail, pastors fall, and doubts rise, it is tempting to dunk your faith. What is driving the trend to "deconstruct" one's faith and how can we care for those who have left the church because of hypocrisy and sin? How can we build up our own faith? Led by Pastor Joe Brown and Brandon Blevins (Young Life Goochland).
Class Schedule
Human Sexuality

Join Pastor Joe Brown as we dig deep into the Biblical passages related to human sexuality. Using the Bible and our denomination's report on human sexuality, this two month study will deal with such topics as sexual purity and homosexuality. Our hope is that the Gospel renews our minds and hearts and clarifies Christ's heart toward His people.

Class Schedule
Class Questions and Answers
The Answers to the following questions from the class can be found here.
Your neighbor says to you, "The Bible has been used to justify slavery. So if you think that is wrong now, then aren't you just on the wrong side of history to use the Bible to justify your homophobia?" How do you respond?
Isn't so much of the rules that the Pharisees enforce in the Bible… Leviticus? So can't the argument be given that they are following God's commands?
If you enter or are drawn into a conversation about (fill in the blank), and our first response is to go to Scripture. Then we become aware the other conversationalist does not accept Scripture as a "legitimate" reference resource. How do we proceed? Or do we simply withdraw?
How are we to respond when a church leader, member, and/or regular attender posts something on social media that celebrates an anti-biblical sexuality viewpoint?
What is the ethical response to demands that we act and/or speak in a manner that indicates acceptance of a non-Biblical view of human sexuality?
Your young adult niece has said that she is now male and wants you to use male pronouns for him and to call him his new male name. What do you do?
A married fellow church member once said of his wife, "she can't refuse me." As in, she's not permitted to refuse him sexually. Debate the biblical guidance and church-cultivated deception on this issue.
When a person meets with elders to become a member and they believe that "God makes gay people," first, would that even come up in the conversation? And would their answer prevent their membership?
Your non-Christian gay biological brother invites you to his wedding to his husband. Do you go? What do you say to him either way?
Do I treat my gay neighbor who also says he is a Christian as a brother in Christ?
Your young adult son "comes out" to you as gay. What do you say? He wants to invite his boyfriend to Thanksgiving. What do you say? And why?
Your SSA Christian friend tells you that she believes in a BSE, she prays for God to take away her homosexual desires, but it isn't "working." It's all-consuming to her and she worries that she will grow to hate herself and hate the church. "No one" seems to understand her struggle in the church. How do you respond?
A common comment I've gotten from the affirming crowd is that "God created people with same sex attraction, and God can't make mistakes." How would you respond to this?
Someone shows up at the Home Group that you are leading and he introduces himself as a Gay Christian. What do you say or do in the moment?
Similar to the question above (Question 13 above), I've heard "God created people who strongly feel they have a different gender identity than their biological sex. If God can't make mistakes, why would he do that?"
Any thoughts about 'asexual' people? Not having an attraction for either gender?