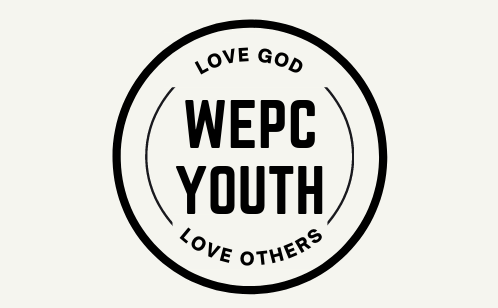 If you have ideas that you think would be helpful, please share those with us.
Isaiah Thomas, Director of Youth Ministry
Marcela Henderman, Assistant Director of Youth Ministry
Leticia Gonzaga, Youth Ministry Associate
Hayden McMahon, Youth Ministry Associate
Please reach out to the above staff with any concerns, needs, or questions.
---
Upcoming Events
2023 Summer Calendar (Download as PDF)
"The Fruit of the Spirit"Listen Here

June 4 / 9 AM
Fellowship Hall

School's Out Cookout
June 9 / 6-8 PM
Home of Isaiah & Abbey

More information to come!

July 29-Aug 2, 2023
Watermarks Camp
---
REGULAR Meetings / Events
Weekly / 9:00 AM

*First Sunday of each month--breakfast in the FH

Youth Lounge
Middle and High School

Join us as we meet in large and small groups, have a teaching time from God's Word, and worship together!

MUSIC HELP NEEDED
If you or your child can sing or play an instrument and would like to help lead worship in youth group on Sunday mornings, please email




Weekly on Wednesdays

(No YG on June 7 or 21)

6-7:30 PM Middle & High School together

Youth Lounge

We will praise God through song and learn more about the Gospel of grace through Bible teaching, peer discussion, and prayer. This will be a great time to have fun playing group games, to be reminded of what is true, and to know that you are not alone as we walk through life together.

These groups will be led by adults who are members of our Church, and they will be divided by grades. If your middle or high school students are interested in joining a community group, please contact and/or with any questions.
Girl Community Groups

Middle school: Mondays / 6:30-8:30 PM / WEPC

9-10th grade: Tuesdays / 7-8:30 PM / Tetterton home (will meet 1x/month for the summer)
11-12th grade: Tuesdays 7-8:30 AM / Starbucks in front of Regency Mall
---
bible reading plan
As we continue to connect students to Jesus, each other, and the world, the Youth Ministry staff would like to invite students to engage with the Bible Project Reading Plan! This plan is designed to take the reader through the Bible in a year. One of the ways we get to know God is by learning His Word, and this reading plan can be a helpful tool towards understanding God better.
For more information, use the links below to find the plan, along with instructions and helpful aids to use as you walk through the Bible. We have also provided links to podcasts and an audio Bible with the hope that these will be other helpful tools for engaging the Bible in your own time!
Bible Reading Plan (PDF Version)
Audio BibleBible Project Podcast
---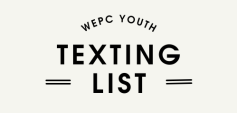 We use our texting list to send information and reminders about upcoming happenings directly to students. Two ways for students to be added to our texting list:
Click HERE and Enter Name and Cell Phone Number
OR

Text "WEPCYOUTH" to 40650
Important: Terms of Service & Privacy Policy Message frequency may be periodic. Msg & Data rates may apply.
To cancel, send STOP to 40650 at any time. For help, send HELP to 40650 at any time.
---

Follow us on Instagram: @wepcyouth
We use Instagram to post pics, videos, information and reminders about upcoming happenings.