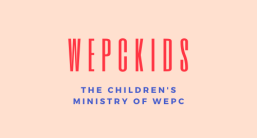 Our children's ministry, wepckids, strives to bring the Gospel to bear
in every facet of children's lives.

Director of Children's Ministry: Audrey Snyder
Children's Ministry Administrator: Colleen Jacoby
---

MOVE UP SUNDAY FOR RISING 6th GRADERS!

---
Vacation Bible School 2023

Swimming in the MerSea of God!
June 19-22 / 5:30-8 PM
*Volunteer areas include Classroom Facilitators, Snacks, Decorations, Crafts, Games, Registration, Set Up/Clean Up, Nursery, Floaters, and more!*

Contact: Talya Tacosa O'Dea, Director of VBS
---
Infant Nursery and Nursing Mothers' Room
We are so thankful for the growing number of babies in our congregation. Our Infant Nursery is back open and will be staffed on Sunday mornings. There are a number of swings, bouncers, cribs, and toys to keep your baby happy during services.
We also have a Nursing Mothers' Room available for use at all times. It is next to the infant nursery, behind the nursery counter. Mothers, feel free to use this room. There are a number of gliders, a changing pad, and pack 'n plays, and you can listen in to the service while in there.
Church Library
Did you know you can check out books from our church library downstairs? There are a number of children's books that have recently been purchased and are available to check out. Be sure to go take a peek at them on display in the children's section.
---
Kids' Club (K-5th grade)
Wednesdays / 6-7:30 PM / Room 25
Mrs. Wiebe-King has been working with our Kids' Club children on the Names of God! Here is a video to review: Names of God
---
volunteers
Click on the button below to find out when you serve in Sunday School, Children's Worship, and Nursery.
Click on the button below to complete our Volunteer Application if you are interested in serving in this ministry.
Children's Ministry Volunteer Application
Click on the button below to read our Safety Policy.
WEPC Safety and Abuse Prevention Policy
---
Ministry age groups
Our nursery offers newborns to three years old safe, nurturing care during Sunday morning services.

Preschoolers through Grade School
Children ages 4-10 have many chances to grow in the Gospel:
Preschool Quest offers four- and five-year-olds music, crafts, creative storytelling, and much more during Sunday services.
Sunday School classes are offered every Sunday morning to teach children the content of our faith.
During the school year, Wednesday evenings are time of fun and discipleship in small groups at Kids Club and 4.5 Connect (for 4th and 5th graders).
---
Resources