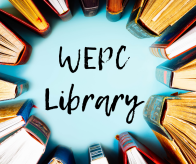 Our mission is to provide gospel-centered resources to encourage growth and imagination in our church and community.
Announcements
Volunteers are always needed and welcome - no experience required! Email for more information.
We are not currently accepting donations at this time.
Events & Activities
November's theme is Praise and Thanksgiving. Check out specially curated resources on our display shelf behind the library desk. We also have free themed coloring sheets available at the library desk.
The Bookmobile will be in the gallery again on December 3rd, featuring new additions, Advent resources, and sample Bible reading plans.
Forms