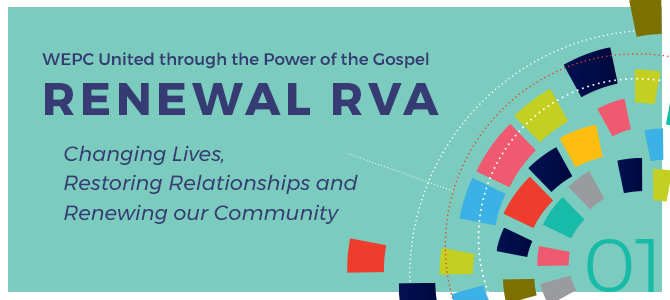 Renewal RVA
What is Renewal RVA?
The purpose of Renewal RVA is to build relationships both within the WEPC church body and with our community neighbors to share the Gospel and point people to faith in Jesus. Renewal RVA seeks to energize outreach activities toward people in our circles of influence and our immediate neighbors—outreach opportunities to confidently invite the skeptics in our lives to consider and know Jesus.
How can I get involved?
If you'd like to learn more or help our Renewal RVA team, please contact Lori Bowman.
Please pray for our team, our congregation, our neighbors, our community and for the Holy Spirit to move hearts toward Jesus.
Renewal RVA Challenges for You:
Partner together with another Christian family in your neighborhood and be intentional about hosting neighbor/community gatherings in your home or yard with the aim to point your neighbors to Jesus.

Be intentional about doing one or more volunteer activities this year and invite your neighbors and community friends to participate with the aim to point them to Jesus. (Here is a listing of partner organizations you can support by volunteering at one of them with your neighbors.)
Attend and invite your non-believing friends to Renewal RVA celebration gatherings as confident outreach opportunities and celebrate God's work in the body of WEPC.
Renewal RVA Team Members
Chip Bowman
Lori Bowman
Anne Creasy
Mark Crutcher
Changjwok Deng
Haley Hollenbach
Becca Wethered
Melinda Winterhalter
Gary Witthoefft